By: Jeffrey David Ringold
The Gift of Love is a groundbreaking work that explores the liberating power of love in the face of life's inevitable challenges. In addition to themes of optimal self-care and life balance, The Gift of Love tackles controversial issues related to political and religious dogma, and the power of compassionate action.
Reviews:
"A powerful guide for anyone who wants their life to be an expression of the awakened heart and mind."  Tara Brach, author of Radical Acceptance
"When I first read Living Joy, I found it full of insights and stories that woke me up and gave me one "aha" after another. The second time I read it, the same thing happened. How do I live a more loving life – not just a bunch of bumper sticker wisdom, but how do I really, actually live it? This book is a good coach."  Frank Andrews, PhD, author of The Art and Practice of Loving.
Be Love Now by Ram Dass
Review
"It is a compelling text, chock full of history, teaching, and truth." (New Age Retailer )
"So many people are desperately searching for love, whether consciously or unconsciously. May Ram Dass' intimate and heartfelt account inspire others to find their own path of true love, compassion, and joyful service." (Thich Nhat Hanh, author of Savor )
"The awakening power of love shines on every page of this wonderfully inspiring book. With insight and engaging humor, Ram Dass shares with us a lifetime of spiritual practice. This book is a rare treat. " (Joseph Goldstein, author of A Heart Full of Peace )
"If the West even approaches enlightenment in the 21st Century, there's no way to overestimate the role of Ram Dass in making it happen. He planted seeds that turned into a million trees; if and when they blossom, they will exude the fragrance of his teaching forever." (Marianne Williamson, author of The Age of Miracles )
"Read this delicious, ecstatic journey and be awakened, be pulled body and soul into the heart of love." (Jack Kornfeld, author of A Path with Heart )
"There is no one better than Ram Dass to transmit the essence of "Eastern" religion and philosophy to Westerners. He has made the journey and from the depth of his Joy and Wisdom he shares with us the journey of so many great Beings." (Krishna Das, Kirtan Wala )
"A gift of love from the man who introduced me to the idea of higher consciousness and became one of my greatest teachers." (Dr. Wayne Dyer )
"Offering a deeply personal yet universal exploration of what he has learned on his four-decade pilgrimage across cultures and religious traditions, Ram Dass shares powerful lessons on love…" (Spiritual Media Blog )
Product Description
Ram Dass, one of America's most beloved spiritual teachers, sparked a revolution forty years ago with the publication of Be Here Now. This landmark classic inspired an entire generation to see the world in a different light. Over the past four decades Ram Dass has been a beacon for seekers worldwide, challenging us to find new sources of meaning and purpose in our lives.
Be Love Now is the third book in a trilogy that began with Be Here Now and was followed by Still Here, Ram Dass's acclaimed work on aging, changing, and dying. In Be Love Now, Ram Dass shares what he has learned in his remarkable four-decade-long spiritual journey. Through timeless teaching stories, compelling and often humorous personal anecdotes, and soul-stirring insights, Ram Dass tracks the stages of his own awakening in his trademark down-to-earth style. Starting with his days as Harvard psychologist and psychedelic inventurer, continuing through his profound encounters with his guru, Neem Karoli Baba, and moving beyond the reawakening brought on by his near-fatal stroke, Ram Dass shares his life experiences while offering a timeless teaching on love and the path of the heart.
Guiding us through the pitfalls and perils of our own spiritual path, Be Love Now is both a deeply personal and wonderfully universal exploration that will open hearts and minds. Ram Dass once again blazes a new trail, inviting all to join him on this next stage of the journey.
The Power by Rhonda Byrne
The Secret revealed the law of attraction. Now Rhonda Byrne reveals the greatest power in the universe — The Power to have anything you want. In this book you will come to understand that all it takes is just one thing to change your relationships, money, health, happiness, career, and your entire life. Every discovery, invention, and human creation comes from The Power. Perfect health, incredible relationships, a career you love, a life filled with happiness, and the money you need to be, do, and have everything you want, all come from The Power. The life of your dreams has always been closer to you than you realized, because The Power — to have everything good in your life — is inside you. To create anything, to change anything, all it takes is just one thing…THE POWER.
About the Author
Rhonda Byrne's intention is to bring joy to billions. She began her journey with The Secret film, viewed by millions. She followed with The Secret book, a worldwide bestseller now available in 46 languages. Now, with The Power, Rhonda Byrne reveals the single greatest force in our Universe.
New Law of Attraction Book – Truth, Triumph, and Transformation
Author: Sandra Anne Taylor
Are you frustrated with the way things have been going for you lately? Tired of simplistic approaches to magnetism and success? The truth is, there's more to the process than most people realize. The source of your destiny goes much deeper than just your thoughts. Other important factors, like natural cycles, shared consciousness, karma, environment, and your soul's intention, will influence what you draw to your life.
In this enlightening book, Sandra Anne Taylor examines the many elements of destiny creation, and separates the reliable facts from the confusing fiction that has built up around the Universal Laws. She offers a unique and comprehensive understanding as to why things really happen, empowering you to triumph over difficult cycles without self-blame or fear. No matter what obstacles you may encounter, your consciousness can turn adversity into great opportunity! Let go of the lies . . . and learn the whole truth. Your life will be transformed like never before!
New Release: Life By Design by: Tom Ferry
6 Steps To An Extraordinary You!
Writing this book is the culmination of 20,000 hours of coaching clients on choosing to have a life–By Design. It is full of valuable and unforgettable lessons that I wanted to share with the world. I've been given unprecedented insight about what kills performance or what stops people from truly living a life that they really, and I mean really, love. I believe that one of my missions in life is to touch people's lives in a way so they can benefit from my experience and expertise on how to live their best life–By Design. The most effective way to fulfill my dream was to write this book, which will not only impact people in a positive way, but will also empower them to do the little things that create the necessary shift to make their lives extraordinary.
There is another reason I wrote this book–and this one is more personal. I am the father of two boys who I strive to be the most exceptional role model for. There have been many times in my life where I have faced massive adversity or found myself having to make some very difficult decisions. The first thought that comes to my mind in those situations is always, "if I weren't here to finish raising these two boys, what would I want them to know so they could go on with their lives and become extraordinary men?"
Some of the most important and poignant life lessons I have learned are among the many stories I share in Life! By Design–which I consider to be a blueprint for my boys to get to where they will want to go in life. It isn't the story of how I got to where I am so much as a treasure map meant to lead you toward achieving whatever it is you desire in your own life, whether it's a loving, passionate relationship, a career you excel in because you actually enjoy what you're doing for work, or having great health and vitality.
Whatever you desire, Life! By Design will help you get there. It isn't easy and it will challenge you in ways that may make you think twice, but I promise you one thing. If you read and then apply the basic principle's contained in the pages of my book, you will be infinitely happier and more content and you will learn to take responsibility for your life so you can go out and become the best you that you were meant to be. Are you ready for change? Are you ready to be challenged? Are you ready to live… By Design?
The Genius in All of Us: Why Everything You've Been Told About Genetics, Talent and IQ is Wrong by David Shenk
David looks at scientific data on how the ideas around nature vs nurture has been missing the truth.
Question: Your book is called The Genius in All of Us: Why Everything You've Been Told About Genetics, Talent, and IQ is Wrong. That's a big claim. Everything and how so?
David Shenk: It is a bold statement, and it reflects how poorly the public has been served when it comes to understanding the relationship between biology and ability. The clichés we've been taught about genetic blueprints, IQ, and "giftedness" all come out of crude, early-20th century guesswork. The reality is so much more interesting and complex. Genes do have a powerful influence on everything we do, but they respond to their environments in all sorts of interesting ways. We've now learned a lot more about the developmental mechanisms that enable people to get really good at stuff. Intelligence and talent turn out to be about process, not about whether you were born with certain "gifts."
Question: In The Genius in All of Us you state that the concept of nature versus nurture is over. Scientists, cognitive psychologists, and geneticists are moving towards an idea of 'interactionism.' What does this mean? If the battle of genes versus environment is over, who has won? Which is more important?
David Shenk: They both won, because they're both vitally important. But the new science shows us that they do not act separately. Declaring that a person gets X-percent of his/her intelligence from genes and Y-percent from the environment is like saying that X-percent of Shakespeare's greatness can be found in his verbs, and Y-percent in his adjectives. There is no nature vs. nurture, or nature plus nurture; instead, it's nature interacting with nurture, which is often expressed by scientists as "GxE" (genes times intelligence). This is what "interactionism" refers to. A vanguard of geneticists, neuroscientists, and psychologists have stepped forward in recent years to articulate the importance of the dynamic interaction between genes and the environment.
Question: You describe genes and environment as a sound board. How so?
David Shenk: In the past, we've been taught that each distinct gene contains a certain dossier of information, which in turn determines a certain trait; if you have the blue-eyed gene, you get blue eyes. Period.
It turns out, though, that the information contained inside genes is only part of the story; another critical part is how often genes get "expressed," or turned on, by other genes and by outside forces. It's therefore helpful to think of your genome as a giant mixing board with thousands of knobs and switches. Genes are always getting turned on/off/up/down by hormones, nutrients, etc. People actually affect their own genome's behavior with their actions.
Question: How do these new findings affect the concept of the "The Bell Curve"–that we live in an increasingly stratified world where the "cognitive elite," those with the best genes, are more and more isolated from the cognitive/genetic underclass? Is that idea now completely obsolete?
David Shenk: Yes, it is obsolete. The idea that there is a genetic super-class that has a corner on high-IQ genes is nonsense. This comes out of a profound misunderstanding of how genes work and how intelligence works, and also from a misreading of so-called "heritability" studies. I am not saying that genes don't affect intelligence. Genes affect everything. But by and large I think the evidence shows that people with low intelligence are missing out on key developmental advantages.
Question: Lewis Terman invented the IQ test at Stanford University in 1916. He declared it the ideal tool to determine a person's native intelligence. Are IQ tests accurate? What are the benefits and fallout of the IQ test?
David Shenk: IQ tests accurately rank academic achievement. That's quite different from identifying innate intelligence, which doesn't really exist. Tufts intelligence expert Robert Sternberg explains that "intelligence represents a set of competencies in development." In other words, intelligence isn't fixed. Intelligence isn't general. Intelligence is not a thing. Instead, intelligence is a dynamic, diffuse, and ongoing process.
The IQ test has valid uses. It can help teachers and principals understand how well students are doing and what they're missing. But the widespread belief that it defines what each of us are capable of (and limited to) is disabling for individuals and society. People simply cannot reach their full potential if they honestly believe that they are so severely restricted.
Question: How do we go about finding the genius in all of us? What steps we can take to unlock latent talent?
David Shenk: Find the thing you love to do, and work and work and work at it. Don't be discouraged by failure; realize that high achievers thrive on failure as a motivating mechanism and as instruction guide on how to get better.
Raising Happiness: 10 Simple Steps for more Joyful Kids and Happier Parents
By, Christine Carter
What do we wish most for our children? Next to being healthy, we want them to be happy, of course! Fortunately, a wide array of scientific studies show that happiness is a learned behavior, a muscle we can help our children build and maintain.
Drawing on what psychology, sociology, and neuroscience have proven about confidence, gratefulness, and optimism, and using her own chaotic and often hilarious real-world adventures as a mom to demonstrate do's and don'ts in action, Christine Carter, Ph.D, executive director of UC Berkeley's Greater Good Science Center, boils the process down to 10 simple happiness-inducing steps.
With great wit, wisdom, and compassion, Carter covers the day-to-day pressure points of parenting—how best to discipline, get kids to school and activities on time, and get dinner on the table—as well as the more elusive issues of helping children build healthy friendships and develop emotional intelligence. In these 10 key steps, she helps you interact confidently and consistently with your kids to foster the skills, habits, and mindsets that will set the stage for positive emotions now and into their adolescence and beyond. Inside you will discover
• the best way avoid raising a brat—changing bad habits into good ones
• tips on how to change your kids' attitude into gratitude
• the trap of trying to be perfect—and how to stay clear of its pitfalls
• the right way to praise kids—and why too much of the wrong kind can be just as bad as not enough
• the spirit of kindness—how to raise kind, compassionate, and loving children
• strategies for inspiring kids to do boring (but necessary) tasks—and become more self-motivated in the process
Complete with a series of "try this" tips, secrets, and strategies, Raising Happiness is a one-of-a-kind resource that will help you instill joy in your kids—and, in the process, become more joyful yourself.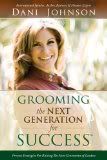 Grooming the Next Generation for Success By Dani Johnson
Product Description
Raise successful kids today! You can raise successful kids who mature into successful adults by using the right grooming techniques. It s easy and helps parents become more successful too! Mother of five and successful entrepreneur Dani Johnson has coached and mentored tens of thousands of clients to become successful and without exception, their biggest stumbling blocks to achievement were the things they learned while they were kids. Dani is uniquely qualified to write this book because of her first hand perspective and experience as a success coach and speaker. The book will help adults discover solutions to why they've struggled throughout their lives to reach the success they desire and also show them how to groom their own kids for success in life. This book is jam packed with easy-to-understand and apply principles and proven practices that give parents, and anyone involved with young people, practical ways to raise children who are successful now and will continue to be as adults. Teaching virtues such as respect, honor, obedience, and financial responsibility while young guarantees lifestyle success in adulthood. Instead of fumbling through life, success becomes a natural occurrence rather than an accident that they hopefully run into.
About the Author
Dani Johnson is an Author, Speaker, Trainer, and Founder of Call to Freedom Int l. She went from living out of her car with $2.03 to her name to earning her first million in two short years by the age of 23. Through her dynamic training seminars, many of her clients have become debt-free and have gone on to earn six-and-seven-figure incomes. Dani teaches and coaches with a passionate desire to see her clients become transformed in their spiritual, family, and professional lives. Her clients become warriors in the marketplace, demonstrating God s glory in places where the church cannot reach. Dani s passion is helping people break through barriers that stop them from experiencing true freedom emotionally, mentally, spiritually, and financially.
There are many things out there that talk about our current meat industry that makes a person want to eat local and farm raised. This is a brand new release.
Product
Jonathan Safran Foer spent much of his teenage and college years oscillating between omnivore and vegetarian. But on the brink of fatherhood-facing the prospect of having to make dietary choices on a child's behalf-his casual questioning took on an urgency His quest for answers ultimately required him to visit factory farms in the middle of the night, dissect the emotional ingredients of meals from his childhood, and probe some of his most primal instincts about right and wrong. Brilliantly synthesizing philosophy, literature, science, memoir and his own detective work, Eating Animals explores the many fictions we use to justify our eating habits-from folklore to pop culture to family traditions and national myth-and how such tales can lull us into a brutal forgetting. Marked by Foer's profound moral ferocity and unvarying generosity, as well as the vibrant style and creativity that made his previous books, Everything is Illuminated and Extremely Loud and Incredibly Close, widely loved, Eating Animals is a celebration and a reckoning, a story about the stories we've told-and the stories we now need to tell.
Reviews
"For a hot young writer to train his sights on a subject as unpalatable as meat production and consumption takes raw nerve. What makes Eating Animals so unusual is vegetarian Foer's empathy for human meat eaters, his willingness to let both factory farmers and food reform activists speak for themselves, and his talent for using humor to sweeten a sour argument." (O, The Oprah Magazine )
"The everyday horrors of factory farming are evoked so vividly, and the case against the people who run the system presented so convincingly, that anyone who, after reading Foer's book, continues to consume the industry's products must be without a heart, or impervious to reason, or both."
(J.M. Coetzee )
"Stirring….compelling, earnest…Foer brings an invigorating moral clarity to the topic." (Entertainment Weekly )
"Eating Animals carefully, deliberately, takes you through every relevant dimension of factory farming…One sees it from the inside, the outside, the moral high ground, the dithering consumer level, through Foer's family stories, from slaughterhouse workers, animal behaviorists, even from defenders of the system… Foer's aim is not to make your choice, but to inform it. He has done us all a great service, and we, and the animals, owe him our thanks." (The Huffington Post Dr. Andrew Weil )
"[Eating Animals] is a postmodern version of Peter Singer's 1975 manifesto Animal Liberation…Foer is the latest in a long line of distinguished literary vegetarians." (New York Times Book Review Jennifer Schuessler )
"Some of our finest journalists (Michael Pollan, Eric Schlosser) and animal rights activists (Peter Singer, Temple Grandin)-not to mention Gandhi, Jesus, Pythagoras, Aristotle, Thomas Aquinas, John Locke and Immanuel Kant (and so many others)-have hurled themselves against the question of eating meat and the moral issues inherent in killing animals for food. Foer, 32, in this, his first work of nonfiction, intrepidly joins their ranks…It is the kind of wisdom that, in all its humanity and clarity, deserves a place at the table with our greatest philosophers." (Los Angeles Times Susan Salter Reynolds )
"A work of moral philosophy…After reading this book, it's hard to disagree [with Foer]." (San Francisco Chronicle Geoff Nicholson )
"Foer's case for ethical vegetarianism is wholly compelling…A blend of solid-and discomforting-reportage with fierce advocacy that will make committed carnivores squeal." (Kirkus Reviews )
The Ultimate Happiness Prescription: 7 Keys to Joy and Enlightenment By: Deepak Chopra
Happiness is something everyone desires. Yet how to find happiness–or even if we deserve to–remains a mystery. Still more mysterious is the secret to a lasting happiness that cannot be taken away. In The Ultimate Happiness Prescription, bestselling author Deepak Chopra shows us seven keys to uncover the true secrets of joy in the most difficult times.
The goal of life is the expansion of happiness, he contends. But in today's demanding world, that goal seems elusive, if not impossibly out of reach. Society reinforces the belief that fulfillment comes from achieving success, wealth, and good relationships. Yet Chopra tells us that the opposite is true: all success in life is the by-product of happiness, not the cause.
So what is the cause? The Ultimate Happiness Prescription shares spiritual principles for a life based on a sense of your "true self" lying beyond the ebb and flow of daily living. Simple daily exercises lead to eliminating the root causes of unhappiness and letting a deeper level of bliss unfold.
After all avenues to happiness have been explored and exhausted, only one path is left: the journey to enlightenment. In The Ultimate Happiness Prescription, the daunting and exotic challenge of finding enlightenment becomes accessible step by step. We are taken on an inspiring journey to the true self, the only place untouched by trouble and misfortune.
On the way we learn the secrets for living mindfully and with effortless spontaneity. Now happiness is no longer hostage to external events but an experience we carry with us always. As Chopra inspiringly concludes, "Everything we fear in the world and want to change can be transformed through happiness, the simplest desire we have, and also the most profound."
(From Hardbook cover)