Don't Quit Till You Have Nothing Left
We can all do more than what we think we can do! Can we be our own coach and drive ourselves to the point that we have nothing left? Till we reach our desires? To continue working with our kids to help them reach adulthood with a good base to make it in our world; to learn and grow?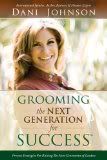 Grooming the Next Generation for Success By Dani Johnson
Product Description
Raise successful kids today! You can raise successful kids who mature into successful adults by using the right grooming techniques. It s easy and helps parents become more successful too! Mother of five and successful entrepreneur Dani Johnson has coached and mentored tens of thousands of clients to become successful and without exception, their biggest stumbling blocks to achievement were the things they learned while they were kids. Dani is uniquely qualified to write this book because of her first hand perspective and experience as a success coach and speaker. The book will help adults discover solutions to why they've struggled throughout their lives to reach the success they desire and also show them how to groom their own kids for success in life. This book is jam packed with easy-to-understand and apply principles and proven practices that give parents, and anyone involved with young people, practical ways to raise children who are successful now and will continue to be as adults. Teaching virtues such as respect, honor, obedience, and financial responsibility while young guarantees lifestyle success in adulthood. Instead of fumbling through life, success becomes a natural occurrence rather than an accident that they hopefully run into.
About the Author
Dani Johnson is an Author, Speaker, Trainer, and Founder of Call to Freedom Int l. She went from living out of her car with $2.03 to her name to earning her first million in two short years by the age of 23. Through her dynamic training seminars, many of her clients have become debt-free and have gone on to earn six-and-seven-figure incomes. Dani teaches and coaches with a passionate desire to see her clients become transformed in their spiritual, family, and professional lives. Her clients become warriors in the marketplace, demonstrating God s glory in places where the church cannot reach. Dani s passion is helping people break through barriers that stop them from experiencing true freedom emotionally, mentally, spiritually, and financially.