I ran into this as I was reading comments from one of Darren Hardy's video blogs.  I thought it was great and wanted to share it with others!
"It's Time."
I once asked an old man to say something wise,
and the words that unfolded – were a welcome surprise.
He started by saying, "Tell me, son – What is it you seek?"
"Success in hurry," I blurted, "because my future looks bleak!"
"Times are tough." I continued, with a little regret.
Because what he said next, I will never forget.
"If quick success is what you seek to find,
it's already been found – and it's a matter of time.
You say 'times are tough' – and now look at this clock.
There's more to these hands than the tick and the tock.
You see only one hand in motion, but I can see all three.
It's the way all things work, just take it from me.
The 'Seconds' hand moves fast, so it's easy to spot;
Soon you'll recognize it's the seed, to plant in your plot.
Most see 'small' as insignificant, but I know it's the start;
for your very life lives with the small beats of your heart.
If those never started, or continued – Then where would you be?
Nothing's insignificant, you see – because seeds become trees.
Your seeds are the small actions that you must eagerly take;
the seconds sprout into minutes – the right time to cultivate.
Keep on moving here, because it takes time and vital care;
we all know who won the race of the Tortoise and Hare.
It wasn't because the Tortoise was slow that he won the race,
he proved, 'steady' fares better than any back-breaking pace.
Minutes are the well-formed habits that add-up to become Hours,
just like seeds become buds, and then those become flowers.
This is a tough time for many – in fact, most will quit.
See, our culture has taught that good results must always come quick.
'If you're doing it right – you'll see results right away.'
But, that's not the way things work – I'm sorry to say.
Cultivation comes before the harvest – It has always been this way!
As the Seconds become Minutes, soon the Hours will begin to pass.
You're on the track to success, just check your looking glass.
Your looking glass is in your mind's eye – and only you can see it there,
Look there for your results, or else you'll begin to look elsewhere.
Consistency with a purpose is what you are after,
and vision for outcomes is what you will master.
The fruit of the harvest, has arrived in your mind,
taste it, and feel it – it's the best of it's kind.
Hours and fruit, you'll have all you need,
Minutes of nourishment, and Seconds of seed.
Although success can't be hurried, it can be assured.
Don't be like the others – who's vision got blurred.
The key to getting started, is to start right away.
Don't be like the rest – getting started 'someday'.
Someday never comes, I can say without doubt.
See the tears in my eyes? My time has run out.
Success is not a secret: You have all you need!
It's your time to get started: Now you are my seed!
You've asked for success, and now have the keys in mind,
it's not about talent, luck, or even hard work – you'll find;
Success is just a series of simple small steps, repeated in time."
~ By Tobias Sedillos
"An e-myth enterprise is a business that takes personal responsibility for the condition of the world it finds itself in; for the condition of the people with whom it interacts; for the condition of their children and their children's children; for the condition of the very quality of life itself."
This is the second book I have read by Michael E. Gerber. I can say that reading his books makes me want to meet him and buy him dinner so that I could have some time to hear his thoughts on how I might do what I am doing better. He is very accomplished and as I read his words; I feel myself becoming hypnotized or mesmerized by his
words and writing. The way he writes pulls you in, it entertains, it builds a picture, it brings feelings to the surface, it brings questions to the forefront. I have gone through the process of re-evaluating what I am doing based on what I have read within the pages of Michael's books.
Michael is founder of E-Myth Worldwide. E-Myth Worldwide was created in 1977 as a coaching, training and education company. It is now in its 32nd year and has helped more than 65,000 businesses in over 145 countries. His program is used in 118 universities in the world. He has authored 13 business books and founded 11 new ventures in the last four years. Michael is writing from a place of experience and from a place of caring about us making it work so that we can make the world a better place.
In this book he describes what an E-Myth Enterprise is; the essential ingredients. There are four; the visual, emotional, functional, and financial. These four ingredients work together to create an exceptional business. The first thing to realize is that a business exists only as others observe it. A business can not be without employees, customers, suppliers and lenders and they all have perceptions. Their perceptions count and Michael explains that businesses need to step up and DO MORE. They need to be cognizant of these four distinct group of interactions – the employees, the customers, the suppliers and the lenders all play a large role in how successful the company will be. A business needs to understand that these four groups have essential needs, perceived preferences, and unconscious expectations and the business must DO MORE to satisfy these. They satisfy them by paying attention to the visual, emotional, functional and financial ingredients. They need to have 5 basic skills in order to satisfy these ideals.
Concentration: Provides energy and attention needed for the right action to take place.
Discrimination: Provides us with intention and standards that help us know which action needs to be taken.
Organization: Important to realize that people can not be organized; time, space and work are the things that can be organized. Organization provides room for the right action to take place.  Time is the utilization of energy; Space is having the right tools in place in the right quantity to support the right action; Work identifies the natural way to take action, and the relationships between functions and the coordination of action and functions.
Innovation: Is about effectiveness. Doing things faster, cheaper, smoother and softer. Watch the child – they do it all the time.
Communication: Channel through which life is conveyed. Ideas and the energy of ideas are transmitted and how mind, spirit and body converge into a force for the right action.
I loved how he describes the process of getting more life in a business. The process starts with the development of standards and that develops discipline which results in the development of patience which leads to development of vision, which gives insight, which inevitably leads to the development of conviction, which leads to awareness, where you can't help but develop empathy, which obviously creates deeper and real relationships which – the ultimate end of having more life.
The ideals by which to create the E-myth Enterprise are the ingredients to a successful idea and business.
Visual: Our first impressions are made visually. It is important that a business pay attention to leaving a good first impression; customers, employees, suppliers and lenders will create a perception based on what they see of your business thereby affecting the resulting relationship. Pay attention to your logos, your colors, scale, order, and consistency. Ensure that information is being transmitted visually.
Emotional: It is important to connect to the emotional side of people, to leave a mark. People need order, to feel heard, connected to something bigger than themselves, a purpose, to feel that what they do has moral weight and is important and that people they associate with love them. In order to reach the emotional side of people it is important to always ask questions – be like a child. A child always challenges the boundaries and asks questions and they keep going. If they get a no or fall down, they keep going, they keep asking.
Functional: As I read on what the functional ideal is, it reminded me of what I learned in Emyth Revisited (LINK TO THIS POST). For a company to be functional it needs to act great and to act great it must think completely different about what it does and how it does what it does. They need to focus on processes rather than the people. If great processes are put together than you don't need to hire (and pay for) the best. Analyze what employees, customers, suppliers and lenders want the business to do and whether it makes sense to try and incorporate that in the way the business operates. Try and find out the most frustrating thing to these key stakeholders and then see if you can guarantee that this most frustrating thing will not occur.
Financial: Michael insists that you do need to worry about money, that it isn't all about doing what you love and letting the money come. He writes that money has no meaning without people, that you must take care of it because it will not take care of itself and he stresses that you must have integrity when it comes to money.
The final chapter of the book will challenge your thinking and will test your defensiveness. I found myself having to read this chapter a couple of times in order to really GET what he is working to say here. To me, what I feel he is trying to get across is that we have fallen into a trap because we often forget to think. Actually, really, truly THINK. We fall into doing things, wanting things, that are the newest trends or hot new tools to improve our lives. He gives advice on how to get out of this – he says that we need to
Admit to the fact that we have fallen into a programmed trap
Be more interested in far more than just business; we must be interested in the dignity of ones own life and those lives around us; must set very high standards;
Be interested in how things look and how things feel and how things work and then finally in the money.
Realize that the economic model is a myth
Pay attention to people; what is imprisoning them, what is frustrating them, what is inhibiting them, what is restraining them, what is depriving them of a rich forceful life.
Be conscious of oneself
Be honest with oneself
Continually watch oneself
I highly recommend reading this book; it will make you really think hard about what you are working to achieve in your endeavor.
The Genius in All of Us: Why Everything You've Been Told About Genetics, Talent and IQ is Wrong by David Shenk
David looks at scientific data on how the ideas around nature vs nurture has been missing the truth.
Question: Your book is called The Genius in All of Us: Why Everything You've Been Told About Genetics, Talent, and IQ is Wrong. That's a big claim. Everything and how so?
David Shenk: It is a bold statement, and it reflects how poorly the public has been served when it comes to understanding the relationship between biology and ability. The clichés we've been taught about genetic blueprints, IQ, and "giftedness" all come out of crude, early-20th century guesswork. The reality is so much more interesting and complex. Genes do have a powerful influence on everything we do, but they respond to their environments in all sorts of interesting ways. We've now learned a lot more about the developmental mechanisms that enable people to get really good at stuff. Intelligence and talent turn out to be about process, not about whether you were born with certain "gifts."
Question: In The Genius in All of Us you state that the concept of nature versus nurture is over. Scientists, cognitive psychologists, and geneticists are moving towards an idea of 'interactionism.' What does this mean? If the battle of genes versus environment is over, who has won? Which is more important?
David Shenk: They both won, because they're both vitally important. But the new science shows us that they do not act separately. Declaring that a person gets X-percent of his/her intelligence from genes and Y-percent from the environment is like saying that X-percent of Shakespeare's greatness can be found in his verbs, and Y-percent in his adjectives. There is no nature vs. nurture, or nature plus nurture; instead, it's nature interacting with nurture, which is often expressed by scientists as "GxE" (genes times intelligence). This is what "interactionism" refers to. A vanguard of geneticists, neuroscientists, and psychologists have stepped forward in recent years to articulate the importance of the dynamic interaction between genes and the environment.
Question: You describe genes and environment as a sound board. How so?
David Shenk: In the past, we've been taught that each distinct gene contains a certain dossier of information, which in turn determines a certain trait; if you have the blue-eyed gene, you get blue eyes. Period.
It turns out, though, that the information contained inside genes is only part of the story; another critical part is how often genes get "expressed," or turned on, by other genes and by outside forces. It's therefore helpful to think of your genome as a giant mixing board with thousands of knobs and switches. Genes are always getting turned on/off/up/down by hormones, nutrients, etc. People actually affect their own genome's behavior with their actions.
Question: How do these new findings affect the concept of the "The Bell Curve"–that we live in an increasingly stratified world where the "cognitive elite," those with the best genes, are more and more isolated from the cognitive/genetic underclass? Is that idea now completely obsolete?
David Shenk: Yes, it is obsolete. The idea that there is a genetic super-class that has a corner on high-IQ genes is nonsense. This comes out of a profound misunderstanding of how genes work and how intelligence works, and also from a misreading of so-called "heritability" studies. I am not saying that genes don't affect intelligence. Genes affect everything. But by and large I think the evidence shows that people with low intelligence are missing out on key developmental advantages.
Question: Lewis Terman invented the IQ test at Stanford University in 1916. He declared it the ideal tool to determine a person's native intelligence. Are IQ tests accurate? What are the benefits and fallout of the IQ test?
David Shenk: IQ tests accurately rank academic achievement. That's quite different from identifying innate intelligence, which doesn't really exist. Tufts intelligence expert Robert Sternberg explains that "intelligence represents a set of competencies in development." In other words, intelligence isn't fixed. Intelligence isn't general. Intelligence is not a thing. Instead, intelligence is a dynamic, diffuse, and ongoing process.
The IQ test has valid uses. It can help teachers and principals understand how well students are doing and what they're missing. But the widespread belief that it defines what each of us are capable of (and limited to) is disabling for individuals and society. People simply cannot reach their full potential if they honestly believe that they are so severely restricted.
Question: How do we go about finding the genius in all of us? What steps we can take to unlock latent talent?
David Shenk: Find the thing you love to do, and work and work and work at it. Don't be discouraged by failure; realize that high achievers thrive on failure as a motivating mechanism and as instruction guide on how to get better.
Rework by Jason Fried and David Heinemeier Hansson
This new release that is for anyone who wants to be in business for themselves.
Seth Godin reviews it:
This book will make you uncomfortable.
Depending on what you do all day, it might make you extremely uncomfortable.
That's a very good thing, because you deserve it. We all do.
Jason and David have broken all the rules and won. Again and again they've demonstrated that the regular way isn't necessarily the right way. They just don't say it, they do it. And they do it better than just about anyone has any right to expect.
This book is short, fast, sharp and ready to make a difference. It takes no prisoners, spares no quarter, and gives you no place to hide, all at the same time.
There, my review is almost as long as the first chapter of the book. I can't imagine what possible excuse you can dream up for not buying this book for every single person you work with, right now.
Stop reading the review. Buy the book.–Seth Godin
I had someone that I admire recommend reading this book and I picked it up without knowing exactly what to expect. I had heard it mentioned before, but beyond that had not understood what it was about.
After reading this book, I have quite a few ah ha's — and this, along with going through a Goals Development Program by Darren Hardy and success.com, I am now looking at my business in a different way. This book is a must read for anyone going into their own business. The book was written
by Michael E. Gerber, who is the founder of E-Myth Worldwide. E-Myth Worldwide was created in 1977 as a coaching, training and education company. It is now in its 32nd year (if that isn't something amazing to anyone trying to start their own business then nothing is!) and has helped more than 65,000 businesses in over 145 countries. His program is used in 118 universities in the world. He has authored 13 business books and founded 11 new ventures in the last four years. I have ordered his most recent book; however this one was absolutely awesome.
The most impacting realization I took away from this book is that all Entrepreneurs have started a business due
to the chaotic world we are living in. They are looking for order. Our world is a place of constant change and our corporations and larger companies (and smaller companies) are doing their best to keep up with all the changes; however they are failing miserably (80% of new businesses fail within 5 years). Due to the chaos and never ending change, the individuals working in companies are feeling discomfort; they feel no order, no real reason for being and they feel they are working hard for companies without any real satisfaction. The realization that this book led me to is that the reason that these businesses are failing are because we are bringing the chaos from the world and our companies with us and opening up businesses that result being ran on the basis of chaos. What Michael Gerber is teaching in this book is that we need to change ourselves in order to not only run a successful business, but to also help the world start to run without the state of chaos we seem to be in constantly.
The other thing that the book points out is that each of us is a person with multiple personalities. For instance, we all have a skinny personality and fat personality. The skinny person gets motivated to exercise and diet to get healthy; the fat person is comfortable hitting the snooze button and going back to sleep or opening the fridge for that second helping of ice cream. We also have three personalities that come into play when starting a business; a technician, a manager and an entrepreneur. The technician likes doing the work; they are good at the work and they like being left alone. The manager likes order and process and tries to minimize as much change as possible. The entrepreneur thrives on chaos and constant change. Each of these personalities needs a chance to survive and thrive. If any one of these personalities takes over, the business will die.
Most small businesses have been started by the technician in us. The person who knows they can start a business doing what they know best and they feel they can do it so much better than the company they are working for. The entrepreneur steps in momentarily (in what the book calls an "entrepreneur seizure") and the person is off to start their business. The problem then becomes that the technician steps back in and neither the manager nor the entrepreneur steps back in to balance the business out.
The book discussed 3 stages: infancy, adolescence and maturity. Infancy is the technician stage – it isn't looking for growth and change, it is a time for work, work, and more work. Infancy ends when the owner realizes a change is needed and it is at this point that many businesses fail. This is where the entrepreneur and manager must be allowed in to move the business into the next stage and if this doesn't happen the technician decides to either close its doors, goes for broke (hires people but doesn't manage) or succeed in spite of it all (and will work until they literally can't any longer). Adolescence needs a manager. A small business will stay in adolescence until the owner can't work the business any longer or if it had been planned correctly enters maturity. Every business reaches a point where it goes beyond the owners comfort zone. Mature companies typically start out as a mature company; it is the owner that goes through infancy and adolescence to enter maturity. It is important to prepare yourself and your business for growth; by continuing to educate yourself so that your business can grow.
The turnkey revolution is what we saw when companies began to be ran like McDonald's is ran. It was the start of the franchise. A franchise is either a trade name franchise or a business format franchise. The business format franchise runs by a system, the product is the system not the actual consumable good. This is where the owner works ON the business not IN the business.
The rest of the book discusses how an owner needs to innovate, quantify and orchestrate. These three things dance together in order to create a successful business. The business development program includes contemplating your primary aim, the strategic objective and strategies for the organization, management, people, marketing and systems. The book discusses the process of prototyping each position that will be done, or could be done within the business. Management development is discussed and how the system becomes your solution. They go through people management and discuss how to get employees motivated – it makes a point on how the owner creates the environment where the employees WANT to work for the company. Lastly the systems strategy is discussed – how to bring the hard systems, soft systems and information systems together.
I loved this book for what it has done to the thoughts for my own business; however I am feeling a bit cheated. I am looking for more thorough details and examples of the business development process; however there is enough information included that with a bit of research and time the details should become accessible.  To spite feeling cheated, I highly recommend reading this book if you are looking to be in business for yourself or if you are in business for yourself!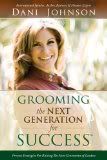 Grooming the Next Generation for Success By Dani Johnson
Product Description
Raise successful kids today! You can raise successful kids who mature into successful adults by using the right grooming techniques. It s easy and helps parents become more successful too! Mother of five and successful entrepreneur Dani Johnson has coached and mentored tens of thousands of clients to become successful and without exception, their biggest stumbling blocks to achievement were the things they learned while they were kids. Dani is uniquely qualified to write this book because of her first hand perspective and experience as a success coach and speaker. The book will help adults discover solutions to why they've struggled throughout their lives to reach the success they desire and also show them how to groom their own kids for success in life. This book is jam packed with easy-to-understand and apply principles and proven practices that give parents, and anyone involved with young people, practical ways to raise children who are successful now and will continue to be as adults. Teaching virtues such as respect, honor, obedience, and financial responsibility while young guarantees lifestyle success in adulthood. Instead of fumbling through life, success becomes a natural occurrence rather than an accident that they hopefully run into.
About the Author
Dani Johnson is an Author, Speaker, Trainer, and Founder of Call to Freedom Int l. She went from living out of her car with $2.03 to her name to earning her first million in two short years by the age of 23. Through her dynamic training seminars, many of her clients have become debt-free and have gone on to earn six-and-seven-figure incomes. Dani teaches and coaches with a passionate desire to see her clients become transformed in their spiritual, family, and professional lives. Her clients become warriors in the marketplace, demonstrating God s glory in places where the church cannot reach. Dani s passion is helping people break through barriers that stop them from experiencing true freedom emotionally, mentally, spiritually, and financially.
The feeling of bliss and motivation has continued to push me through my personal development this week. After the Breakthrough Event in Cancun and having the great motivational speakers and personal breakthroughs it was time to get rolling with the Lifepath Unlimited business. This week was free from training. I made a decision to actually take some action and DO some of the things that I have been learning up to now. When setting goals this week one of them was to work on the Article work. So, I got busy writing articles.
I wrote three articles this week. One that I wrote was about Sean Stephenson – he was extremely motivating and seemed amazing to me in Cancun and I wanted to share what I learned from him and also help get the word of his book out there. I hope to do a review of it some time soon. Another article I wrote was about having a plan. The one thing that I have learned as I move into this business that it is so important to know what I am going to do next. I know that much time in the beginning was spent feeling a bit overwhelmed and having a plan of attack helped me so I wanted to put together some advice for others on how to make a network marketing plan . Another article I did came from an audio I had listened to that highlighted Ellie Drake and the importance of being a good coach. Her message was around being a Great Listener in order to be a great coach and ultimately a successful entrepreneur – she gave 9 tips on being a great listener and talked about how listening skills are required . In addition, I put together a checklist for myself that I need to run through after each article is written:
1. Twitter It
2. Facebook It
3. Digg It
4. Submit it to Search Engines (found here)
This may get added to as I continue on with my work. So, one of the three weekly goals I set – are DONE. The next goal I had was to start back up on doing free ads. However, after thinking about this one and some advice I had gotten while in Cancun, I changed this to work on Press Releases. The work I did here consisted of:

1. Wrote two Press Releases to test the grounds
2. Found a list of 50 Press Release sites
3. Created a tracking spreadsheet to track the sites, my id, password and articles submitted
4. Visited each site to determine if the type of Press Releases I would be working with would match the site. (19 did not)
5. Signed up for an account; read their terms of service (noted sites that had expectations like 1 PR per day, etc)
6. Posted one or both of my Press Releases. (sites that were more stringent I posted only one of the two PRs)
7. Am tracking which sites accepted and which did not accept the releases.
So, second of the three weekly goals I set – are DONE. The third goal will not get done and was associated with my corporate job. With some additional time taken off of work this week, this goal didn't get accomplished.
Even though I took time off from training literally every day offers me something new that I learn with Internet Marketing. Every article I write, every tweak of a press release I learned more and more about the marketing side of the business.
One thing that has been put in front of me this week is the subject of purchasing leads. I continue to struggle with wondering if I have chosen the correct path. There are many people at Lifepath Unlimited that are seeing success and all they are doing is purchasing leads through one form or another. Besides the funding challenge, I am working on generating my own leads because of what kind of business I want.

I want a business that has multiple streams of income. I want a business where it can be successful because I have branded myself and to do that, I know I must become a leader and I must be able to provide value to others. In order to do that, I need to learn how this works, I need to understand what others want and need. If I don't go through these motions I am not sure how I can provide value to people. By learning this process, going through the motions myself and branding myself I will be able to guarantee myself multiple streams of income.
By generating my own leads I also know that my target market will be on the other side of the phone when we talk. This will allow me to listen and have a higher quality conversation. This seems important to me as I work to do this Right From the Heart!
I also started a 30 day challenge this week, but I am going to write about THAT in a different post.
To close out this Blog, I wanted to say a few words about a woman that decided to depart the physical world this week. Our Grandma Helen (Aliera's great grandma) has made her way to release from the physical binds that had, for a very long time, had her tied down – not in a happy place. I found something that I highly resonated with and will share it here:
"Love is stronger than death even though it can't stop death from happening, but no matter how hard death tries it can't separate people from love. It can't take away our memories either. In the end, life is stronger than death." Author unknown
I know she is in a better place, but she will be missed. She had three kids and has a slew of grandkids and great grandkids. RIP!
Scott is an e-business advisor and Internet success coach; he also wrote Internet Riches and has a successful blog, radio show and podcast at his site scottfox.com. I did not read his first book; Internet Riches which is referred to in this book several times. It is an introduction to how one might find a way to make money online and several tips. e-Riches 2.0 goes deep into the strategies. He starts out by delivering 9 commandments
1. Don't worry about the technology: The technology is a set of tools we should focus on our marketing.
2. Heed the Interactive Imperative: Be interactive, your website should not look like or feel like a brochure.
3. Build customer relationships; don't just chase sales: self explanatory!
4. Listen up, the participation nation requires it: people are on line and they are talking – we need to listen – listen to what they want, listen to what they don't want.
5. Your profit potential depends on being more personal – don't hide your identity.
6. Grow beyond your website to a multi-channel online product presence: utilize all the different tools you have available to you.
7. Graduate from destination marketing to distributed engagement: GET OUT on the web.
8. Nurture your brands reputation cloud: Make sure you know what is being said about your company.
9. Publish or perish.
The book then goes on to detail specifics around 10 major success tips.
1. Market your product presence across ALL platforms. Engage with your customers.
2. Reprioritize your marketing tactics and use email, RSS Feeds, autoresponders, social networks, social news sites, blogs, micro blogging, start collecting email addresses.
3. Explore social networks and social bookmarking.
4. Blog if you have something to say that can make you money.
5. Learn how the internet changes Public Relations.
6. Give away as much of your product that you can afford.
7. Leveraging new online broadcast platforms; video, internet radio, podcasts; teleseminars.
8. Use search engines and affiliate programs; ppc, cost per action affiliate.
9. Establish key performance indicator metrics to measure traffic and sales performance.
10. DIFFERENTIATE!
Speaking as someone that has been studying online marketing for 6 months some of the material in this book was repetitive; however, I still learned many things from this book and do recommend reading this book For those starting a new business, or wanting to take their existing business' marketing online I highly recommend reading this book.
Because this industry is changing quickly he recommends watching his web site for updates to all the sections and all of the recommendations in the book.
Have you read the book? What did you think?